New to eBay Selling Manager Applications is
Research for eBay
, by
Vendio
.
Selling more profitably is simple with
Research for eBay

.
For nearly 8 years
Research for eBay from Vendio has given smart sellers the upper hand in the eBay Marketplace. Now eBay sellers can access this powerful research tool within their eBay account! Research for eBay is an application sellers can subscribe to and add to their "My eBay" as part of Selling Manager Applications.

With Research for eBay, eBay sellers will know which items to sell, when to list them, how to list them, and which keywords to use in the listing.

Benefits of Research for eBay:
Know what, when, and how to list items to for the best sales
Retrieve accurate data from proprietary clustering technology
Determine which keywords drive the highest amount of traffic to your listings
Watch your competitors and stay ahead by learning their strategy
eBay Motors and Parts and Accessories data included at no additional cost
Research for eBay can increase the sales volume of your eBay listings and reduce relisting costs. Know what to sell, how much it may sell for, when to sell it and how to market the item all before you list. Save time and money.
Below are screenshots of Research for eBay in action. Take a look.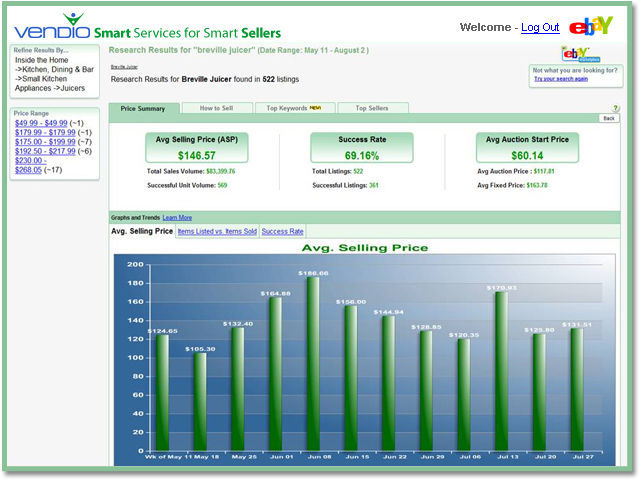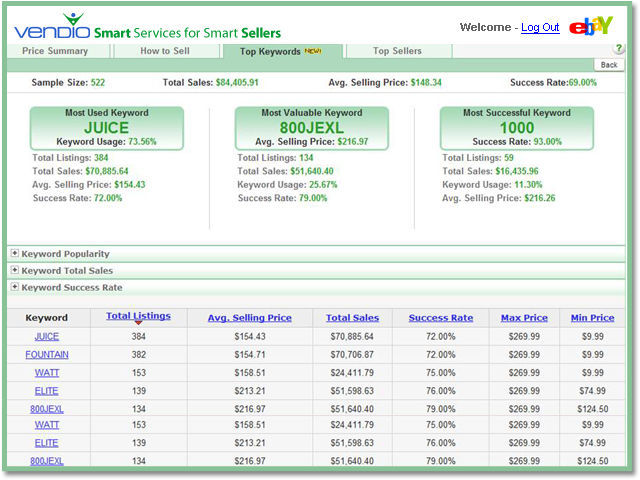 An eBay Certified Solutions Provider since 2004, Vendio provides an ecommerce solution for eBay sellers of all sizes. Vendio offers a series of applications which can be installed on a standalone basis or used to extend the functionality of the Vendio's eBay listing and inventory management solution.
Vendio now brings eBay sellers Research for eBay as part of the eBay Selling Manager Applications feature. Checkout Research for eBay!