eBay Sellers can now create, list and manage their eBay listings with their iPhone or iPod Touch - wherever they are!
Mac and iPhone software developer iwascoding releases its eBay selling solution
GarageSale touch
for the iPhone and iPod Touch.
With
GarageSale touch
iPhone and iPod Touch users can create complete eBay auctions without ever turning on their desktop computer.
Users can upload images taken with the iPhone's built-in camera or existing images from their library, add an item description, and specify required eBay settings, such as category, item attributes, return policy, and shipping terms - all from their iPhone.
GarageSale touch uploads up to 10 images per auction for free to iwascoding's image hosting service and comes bundled with 10 popular auction designs.
Supports 16 different eBay sites, including eBay.com and eBay.de, and shares prepared auctions with GarageSale on the Mac via Bonjour
Auto download eBay categories and attributes updates as released by eBay
Import eBay listings created on the iPhone or iPod Touch into GarageSale desktop application for the Mac
Pricing - GarageSale touch is available for USD 4.99/ EUR 3.99 from the iTunes App Store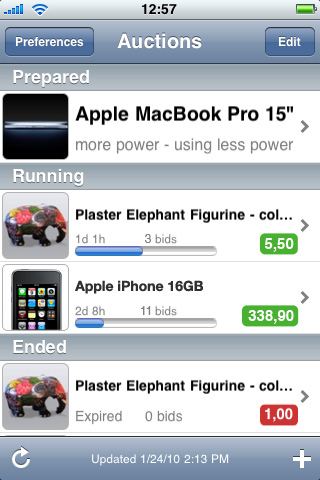 GarageSale
is an eBay selling solution for Mac users. iwascoding is a German company founded in 2005. Frustrated by the absence of eBay listing utilities for the Mac OS X the company founders created a client application for the eBay online auction system. iwascoding is an experienced eBay developer and has created tools to make eBay selling and buying easier for Mac and iPhone users.