Post provided by
Terapeak
Every year, San Diego hosts an event called Comic-Con ("SDCC"), one of the world's largest comic book conventions. This year, thousands of fans converged on the San Diego Convention Center between July 22nd and 26th to meet creators of their favourite comic books, games, movies and television series. Attendees were shown previews for popular TV series such as Dollhouse and Lost , as well as movie trailers like Iron Man 2 and Tron Legacy.

Perhaps most intriguing to eBay sellers is the litany of products available exclusively to SDCC attendees — many of which, according to Terapeak's research tools, have seen high eBay demand since the event ended last week.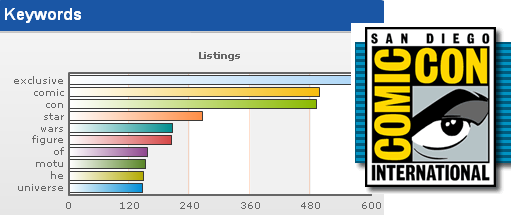 In the past seven days, more than 2,500 items using "SDCC 2009″ as keywords (not counting tickets and passes) have sold on eBay.com, accounting for over $130,000 in total sales. Some of the most popular products include Green Lantern: Blackest Night figure sets, He-man reissues, Twilight figures, Kidrobot vinyl toys, and Star Wars collectibles. And despite the high prices (many are already selling for over $200), the sell-through rate on these listings is an impressive 76%.

As always, Comic-Con will be back next summer, so if you're an eBay seller focused on collectibles, perhaps it's worth making the trip to sunny San Diego!
Terapeak
is an eBay Certified Provider and a member of the eBay Market Data Program. Terapeak 5.0 is a web-based solution providing real-time market research and data analytics on eBay. Terapeak 5.0 provides eBay sellers and buyers with two years worth of trending data.