Have you ever cleaned out the attic and wondered what an old collectible is worth?
Have you been to a garage sale and wondered if there is money to be made in antiques?
Now eBay sellers can easily determine the value of antiques and other collectibles items with the new Terapeak Collectibles market research tool.
With just a few simple clicks, users can research multiple years of data to find out how much an item is worth and how best to sell it. The Terapeak Collectibles database accesses both online and live auction houses, and also allows users to view photographs, descriptions, and other antiques and collectibles data.
Search and browse multiple years of antiques and collectibles data
Price antiques and collectibles based on what they have sold for in the past
View data, descriptions and photos from both online and live auction houses
Access fast, reliable customer support and video tutorials
Never have to leave your My eBay page!
Terapeak Collectibles is a brand new application allowing users to research antiques and collectibles data from eBay, other online marketplaces, and real-life auction houses. Terapeak has partnered with WorthPoint, whose "Worthopedia" database houses data from more than 10 years of live and online auctions. WorthPoint's database combined with eBay market data by Terapeak, creates an extensive and powerful research tool for antiques and collectibles sellers.
Available only in eBay's App Store, Selling Manager Applications.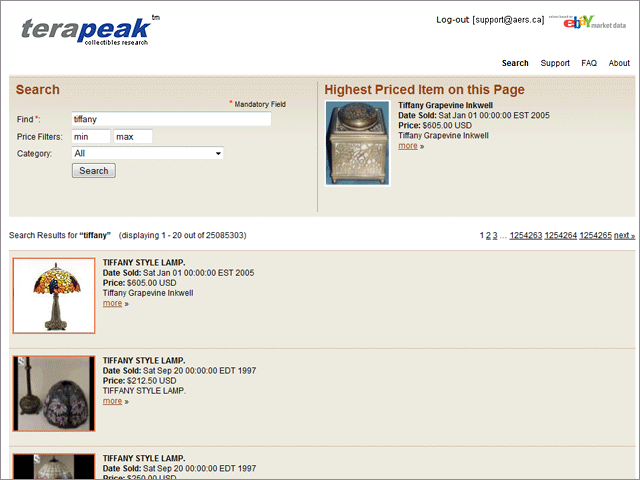 To access Terapeak Collectibles (try it free for 7-days), sellers will need to subscribe or currently be subscribed to eBay Selling Manager or Selling Manager Pro. Once subscribed to Selling Manager or Selling Manager Pro, sellers can add Terapeak Collectibles at this link.