Article from
Auctiva

Education
(Education for eBay Sellers)
As the holidays near, buyers will be bombarded with special offers, sales and a bevy of items to choose from. Yes, every seller will be vying for their attention—and that means you have a lot of competition. So

now is

the time to ensure your listings are in tip-top shape to attract buyers.

Not sure where to begin? Just glance through the following aspects of your listings to make sure your listings pop, entice and give you a very merry selling season.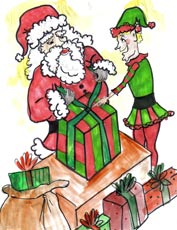 Try on a new template for size
If you've been to your local mall, or even the mom-and-pop shop down the street, odds are you've seen wreaths, candy canes, twinkle lights or other holiday decorations hanging in the windows as you go by. There's a reason for this: The

wintery

decor is inviting and it attracts buyers.
The same holds true for eBay listing templates.
Templates organize eBay listings into digestible segments, including descriptions, shipping details and payment information, so buyers don't have to read through one massive block of text to find the information they need. It's there at a glance.
Auctiva

recently added a number of new themes to its gallery of more than 1,700
eBay listing templates
. You could go with a holiday theme, or opt for a template that complements the color of your items.
Try Bing for

cha

-

ching


The Bing

Cashback

program allows buyers to purchase qualifying items and get a percentage of the item's price as a cash rebate. eBay buyers and sellers have been taking advantage of this program since it began a year ago.
So why not give it a shot? Get full details about
Bing

Cashback
. To qualify for the program, items must be listed with a Buy It Now price, whether you're using the fixed-price or auction format. Be sure to mention the rebate program in your subtitle and description to entice buyers. The cash-back incentive will be very appealing.
Get the Best Match
As we mentioned in an earlier

EDU

article, relevance is the name of the game with eBay's new
Best Match
search algorithm. Remember, Best Match tries to show buyers the listings that most closely match what they're looking for, so use focused and appropriate keywords in your titles and descriptions.
"Titles are more important than ever," eBay notes. "Relevant titles will be more important than ever in getting the best position for Fixed-Price listings."
Titles that are too general might get more impressions, or click

throughs

, but they won't get more sales—and they'll wind up with lower performance scores. Lower scores mean a lower standing in search results.
Also be sure to describe your items accurately; that includes mentioning any minor defects an item may have. The holiday season is no time to surprise your buyers. They should know exactly what they're getting.
Offer free shipping
Budget-conscious shoppers are looking for the best deals this season. Offering free shipping will not only save them money and make them happy, it will give your items a boost in search results.
If you just can't do free shipping, offer the lowest-possible shipping cost. According to eBay, auction-style and fixed-priced listings with excessive shipping will be "demoted" in search results.
Do your research
Yes, prices will definitely matter this holiday season, so take a look at other listings to find out what similar items are going for. Buyers will certainly be doing this, even as the economy starts to improve. In fact,
comparison shopping
is expected to be the norm in the coming weeks, as shoppers look to buy items for all the people on their holiday lists.
Make use of that camera
Good photos and lots of them can promote trust with buyers. Remember that Auctiva lets you add more than 24 images to your listings.
Make sure photos are clear and detailed. A white background is always a good idea, as is taking photos in direct light to get good images. A picture really is worth a thousand words when it comes to selling online.
Find the right format
Lastly, your selling format will matter, too. It may seem difficult to decide if you should list your items in the fixed-priced or auction style, but there are some guidelines.
Auctions typically work well for one-of-a-kind products such as collectibles and antiques. It's also a good option if you don't know the value of an item. This could prevent you from over-pricing a product, since buyers will determine its worth. And you don't want to over-price your items. Buyers will be looking for deals, and so will Best Match.
However, if you have several of the same or similar items, and you can compare your item to others to determine its value, opt for fixed-priced. While several factors go into determining your standing in Best Match search results, Best Match will follow these guidelines.
So take one more good look at your listings to make sure they'll grab buyers' attention, and let the selling begin. Hope you have your packing supplies ready. You'll need them soon enough. Enjoy the sales.
This article has been condensed. Read the full
article here
.