Terapeak
, an eBay Certified Provider and eBay Market Data member, just released a new and completely free app for the eBay Selling Manager Applications -
Terapeak

Keywords
!
Terapeak

Keywords
is a free tool helping sellers optimize their eBay listing titles. eBay sellers know, the first step to creating a listing is coming up with a title. The first step to creating a great listing? Come up with a
great
title.
Terapeak

Keywords
asks a seller to type an item's name/description into a search field. It then samples 100 recent eBay listings that have also included the specified search term(s), and automatically produces a list of related keywords accompanied by average prices and other metrics.
By clicking the most valuable relevant keywords and adding them to your listing, you can continue to build your title until you have used up all 55 characters… And as any eBay seller should know, every character counts!
"We're very excited to be able to offer a free application that will benefit anyone who sells on eBay. The app will remain free and independent of any
Terapeak
subscriptions, so there's no need to create an account. Just add it to
SMApps
(Selling Manager Applications) and go!" -
Terpaeak
Team
Below is a sample of
Terapeak

Keywords
for eBay
Selling Manager Applications
.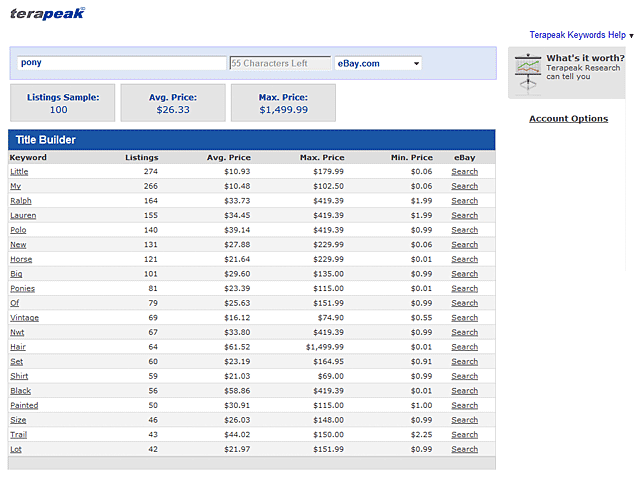 Terapeak
is an eBay Certified Provider and a member of the eBay Market Data Program.
Terapeak
5.0 is a full, web-based solution providing real-time market research and data analytics on eBay.
Terapeak
5.0 provides eBay sellers and buyers with two years worth of trending data.